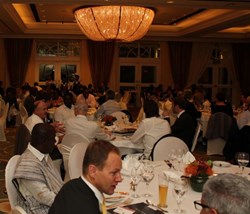 (PRWEB UK) 15 October 2013
Maersk Drilling, Halliburton Global logistics and GNPC – Technip were among the service companies named finest in the field by the prestigious panel of judges, which included Energy Ministers, NOC's and IOC's.
Tullow Oil, OMV, Midwestern and Oando were a few of many oil & gas operators to take home an award.
Exploration & Production Company of the Year: Tullow Oil

Winning the award for phenomenal growth over the past decade fulled by exploration and production in Africa.
Local Content Initiative of the Year Award: OMV

This company have been awarded for their Skills to Succeed Program in Tataouline, Tunisia. With many oil & gas producing states introducing local content into their regulatory frameworks, it is necessary to reward those companies that show real positive attitudes towards effecting positive change on the countries and communities where they operate.
Corporate Social Responsibility Initiative of the Year: Oando PLC

Awarded to a business that has behaved ethically and contributed to economic development while improving the quality of life of the workforce and their families as well as of the local community and society at large.
The Africa Oil & Gas HSE Award: Midwestern Oil & Gas

This was awarded to a company; that in 2012 celebrated going past 5 million man-hours operating without any time lost to injury. That figure has continued and now stands just short of 6 million hours.
Drilling & Well Services Company of the Year: Maersk Drilling

This company has been awarded due to their presentation of diligence and professionalism across all operations when providing drilling and well services across the continent.
Oil & Gas Logistics Company of the Year: Halliburton Global Logistics

Winning the award for tremendous logistical support across both West and East Africa with a priority on speed, reliability and visibility.
Engineering Company of the Year: GNPC and Technip

This award recognised engineering excellence and was awarded due to a brilliant joint venture in Ghana, which involved complex client requirements and the successful management of multiple project partners & stakeholders.
Innovation of the Year: Drillmec

Winning the award for their innovative solution that will revolutionise the market for future years.
Best New Technology of the Year Award, CCG

The judges felt this company stood out from the crowd due to the innovative technology discovery the Broad Seismic Technology.
The Manufacturer of the Year: Craig International Supplies

Winning the award for delivering market leading products, outstanding services, excellent customer support and an exemplary health & safety record.
The Law Firm of the Year: Bowman Gillfilan

A company who stood out among the many entrants, due to working on a range of outstanding deals, excelling at strategic input into deals and demonstrated specific sector expertise.
Recruitment Agent of the Year: Swift Worldwide Resources

Winning the award for continually delivering essential talent to the Oil & Gas Sector.
Neil McKenzie, Managing Director at Oliver Kinross, the company behind the annual awards commented: The industry itself has come on leaps and bounds over the last few years, and it was extremely encouraging to receive nominations from so many established companies in what is the inaugural Africa Oil & Gas Awards ceremony.
For further information about Oliver Kinross or to book onto next years event please visit: http://www.oliver-kinross.com/.
Notes to Editors:
About the Africa Oil and Gas Awards

The awards were judged by a panel of senior level figures including Dr. Ketsela Tadesse, Director of the Petroleum Licensing & Admin Directorate, Ministry of Mines of Ethiopia, Hosea Mbise, Commissioner for Energy and Petroleum Affairs, Ministry of Energy and Minerals of Tanzania, Sumayya Hassan-Athmani, CEO, National Oil Corporation of Kenya, Greg Jewell, West Africa Exploration Manager, Anadarko, John Swallow, Exploration Manager North West Africa, BG Group, GALIB VIRANI, Associate Director, Afren, Rashid Mugabe, Deputy Country Manager, Neptune Petroleum, Immanuel Mulunga, Petroleum Commissioner, Ministry of Mines Namibia, Muzi Mkhize, Chief Director Hydrocarbons, Department of Energy South Africa, Velonarivo Pascal Clovis, Director General Des Hydrocarbures Ministere Des Mines Et Des Hydrocarbures (Madagascar).
About Oliver Kinross

Head-quartered in the United Kingdom, Oliver Kinross is an internationally operating business research organisation.
Oliver Kinross was founded in January 2008 with the aim of delivering high quality training, business intelligence and networking opportunities for industry. This is achieved through a series of Conferences, Summits, Exhibitions and Training Workshops attended by many of the worlds largest organisations. The main industries in which Oliver Kinross operates are European Energy Trading, Cyber Security, Africa, Oil & Gas Exploration & Production, Smart Energy, International Development & Infrastructure.
Since 2008 Oliver Kinross has achieved a track-record of running successful market leading events and has achieved consistent year-on-year growth. It attributes this success to a combination of factors, including: the pursuit of running events in the worlds fastest growth & frontier markets, a commitment to ensuring all events are of the highest quality, and a belief that its staff are its greatest asset.
For further details please contact:
Charlotte Paige-Smith
Direct: +44 (0) 207 628 5625